Dr Fiona Foo specialises in Interventional Cardiology and general adult cardiology.
Dr Fiona Foo graduated from the University of Western Australia with honours, and completed her Advanced Cardiology Training in Fremantle Hospital (WA). She then undertook Interventional Cardiology Fellowships in the Mazankowski Alberta Heart Institute, in Edmonton, Canada; and the Golden Jubilee National Hospital in Glasgow, Scotland.
Dr Foo's interests include coronary interventions via the radial approach, use of fractional flow reserve, acute coronary syndromes, cardiac risks of non cardiac surgery following coronary revascularisation, and ischaemic heart disease in women.
> Fiona is active in helping provide coronary interventional service and training in the developing world (such as in Nepal and Fiji). Read about Dr Fiona Foo's Dhulikhel experience RACP news – Dhulikhel article.
Below, Dr Fiona Foo and the team in Fiji.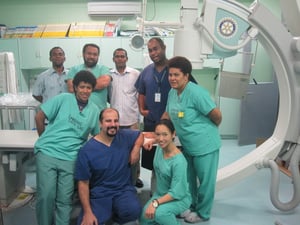 She has a keen interest in diet, exercise and preventative lifestyle measures as well as Sports cardiology. A fitness enthusiast, you can find her in the gym, outdoors running, in half marathons, swimming events, or doing yoga.
Dr Foo is an accredited Medical Officer at Macquarie University Hospital, Sydney Adventist Hospital, Norwest Hospital and the Eastern Heart Clinic.
"I practise evidence-based medicine tailored to each individual. I strongly believe that effective communication and compassion should be part of every patient's care. I not only impart and proffer expertise, but act as a role model in heart health."
Practising at Bella Vista, Sydney City Cardiology and Chatswood

DR FOO – IN THE MEDIA
Good Health – What Cardiologists Tell their friends (PDF download)
Love Thy Neighbour: A comparative look at Cardiology Services in Australia and Fiji (PDF download)
Pump up your power centre (PDF download)
Pregnancy Related Cardiovascular Risk Factors
What every woman should know about heart disease (Video)
Listen to Women and Heart Disease from Preventative Health (Podcast)
Women and heart disease (PDF Download)
Dr Fiona Foo, Interventional cardiologist presenting at Heart Hurdles 2014.